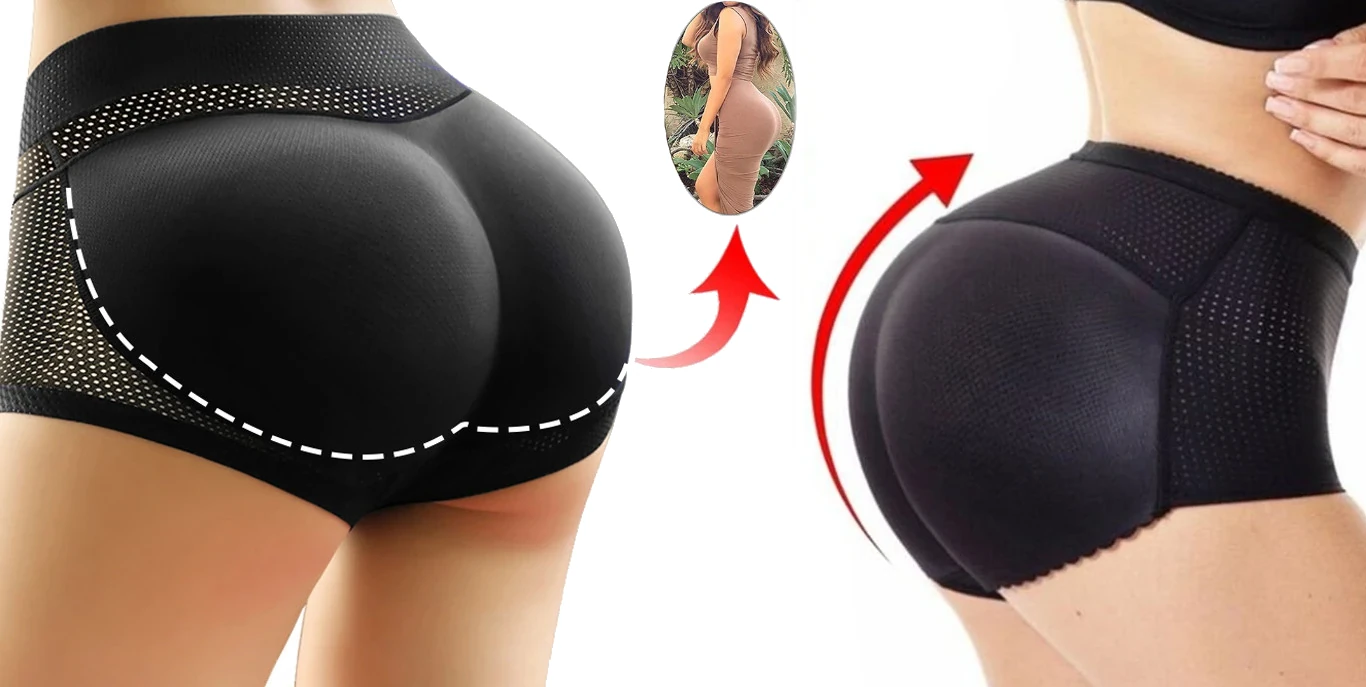 Padded Underwear
Padded Underwear & Tops!
Season Sale
Shop by Category
New In
We Recommend
Fan Favorites
On Sale
Best Sellers
Padded Undies
PaddedUndies is a go-to source for comfortable and stylish padded underwear. We offer a wide variety of products, including butt pads, hip pads, thigh pads, girdles and corsets, and padded lingerie.
Our padded underwear is designed to provide a natural-looking boost to your curves. Each product is made from high-quality materials to ensure maximum comfort and durability. From everyday wear to special occasions, our padded underwear will help you look and feel your best.
In addition to traditional padded underwear, we also offer lacy padded panties, perfect for adding a touch of glamour to your wardrobe. Our padded lingerie collection is designed to provide both comfort and style, making you feel confident and beautiful all day long.
At PaddedUndies.com, we're committed to providing our customers with the best selection of padded underwear. We offer competitive prices and fast shipping to ensure you get your items when you need them.
Tips From Our Blog
Enhance Your Curves and Embrace Confidence with PaddedUndies
PaddedUndies.com is your one-stop shop for accentuating your natural curves and boosting your confidence with our carefully picked assortment of padded undergarments. PaddedUndies offers a broad assortment of padded undergarments to assist you in achieving the silhouette you prefer, from butt pads to girdles, hip pads to lacy padded panties, and a number of alternatives for both men and women.
Curvaceous Confidence at Your Disposal with Butt Pads
With our selection of butt pads, you may harness the power of a curvy figure. Our butt pads are handcrafted with care and provide a discreet and pleasant solution to give volume and shape to your derriere. Our butt pads are meant to offer you the confidence you want, whether you want to accentuate your natural curves or simply embrace a more voluptuous look.
Girdles: Shape and Sculpt with Elegance
Using our girdles, you may create a wonderfully shaped figure. Our girdles are precisely constructed to give you a sleek and streamlined appearance while shaping and contouring your waistline and midsection. Our girdles, which come in a variety of shapes and compression levels, provide both comfort and confidence, allowing you to embrace your curves and look great in any outfit.
Embrace Curvaceous Hips with Hip Pads
With our hip pads, you may achieve an hourglass figure. Our hip pads, which are designed to enhance and add volume to your hips, provide a natural-looking boost that accentuates your curves and provides a balanced and seductive profile. Our hip pads are the ideal answer for enhancing your curves or simply adding a touch of feminine appeal to your appearance.
Sensual and Confident Lacy Padded Panties
With our lacy padded panties, you'll be able to combine sensuality with confidence. Our lacy padded panties, made with delicate lace and with discreet padding, are a pleasant and seductive method to enhance your curves. Our lacy padded panties are meant to help you feel wonderful from the inside out, whether you're searching for a little extra volume or a more feminine form.
Embrace Confidence, Masculinity, and Comfort with Men's Padded Underwear
We believe that confidence knows no gender at PaddedUndies.com. That is why we offer padded underwear created exclusively for males. Our men's padded underwear provides slight enlargement and shape, allowing men to confidently and comfortably embrace their preferred look. With our men's padded underwear, you may boost your figure while also displaying your male appeal.
Padded Bodysuits: From Head to Toe Confidence
With our padded bodysuits, you may achieve a smooth and streamlined look. Our padded bodysuits are designed to provide comprehensive shaping and enhancement, and they serve as a seamless base for any outfit. Our padded bodysuits help you attain the desired silhouette by precisely placing padding and support, leaving you feeling confident and empowered all day.
Exquisite Enhancements for Seductive Appeal in Padded Lingerie
Allow yourself to be seduced by the appeal of padded lingerie that mixes sensuality with enlargement. Our padded lingerie collection contains sumptuous fabrics, delicate detailing, and subtle padding to enhance your curves in all the right places. Our padded lingerie offers a compelling blend of comfort, style, and confidence, allowing you to feel your best in every intimate moment, from push-up bras to thigh slimmers.
Lift, Enhance, and Embrace Your Femininity with Push-Up Bras
With our push-up bra collection, you may experience the power of lift and enhancement. Our push-up bras are designed to provide ideal support and a natural-looking lift, enhancing your cleavage and creating a more appealing appearance. Embrace your femininity and flaunt your curves with confidence, knowing that our push-up bras provide the ideal blend of comfort and design.
Thigh Slimmer: Define and Shape Your Legs
With our thigh slimmer, you can achieve wonderfully sculpted legs. Our thigh slimmers are intended to deliver precise compression and shape to the thighs, resulting in a sleek, streamlined appearance. With our thigh slimmers, you can wear any outfit with confidence and feel gorgeous in every aspect.
A Journey Through Time: The Evolution of Padded Underwear
Padded underwear has a long history, with its origins founded in the desire to enhance and shape the body. Throughout history, both men and women have worn padded undergarments for a variety of reasons, including fashion, modesty, and cultural conventions.
Padded clothing was worn in ancient civilizations such as Egypt and Greece to attain a particular silhouette. These early kinds of padded underwear were frequently constructed from linen or cotton and were intended to impart bulk and shape to specific parts of the body. Women in ancient Rome wore padded clothes called "strophium" or "mamillare" to accentuate their busts and produce a more voluptuous appearance.
European ladies throughout the Renaissance period wanted to acquire a certain shape that emphasized a tiny waist and rounded hips. Undergarments with padding, known as "bum rolls" or "farthingales," were worn to achieve the required form. These padded structures, which were frequently fashioned of whalebone or wire, were worn beneath skirts or dresses to create the illusion of larger hips and a small waist.
Padded undergarments became popular among women in Western nations in the nineteenth century. Crinolines and bustles, which were padded devices used beneath clothing to produce exaggerated proportions, were popular throughout the Victorian era. Crinolines were hoop skirts that created the illusion of a bell-shaped silhouette, whilst bustles were padded devices worn behind the waist to produce a rounded and noticeable posterior.
Padded underwear took on different forms and purposes as fashion progressed in the early twentieth century. Corsets, which were popular at the time, frequently had padding in the bust area to give the appearance of a bigger bosom. Padded bras grew increasingly fashionable as the century proceeded, allowing women to increase their breast size and attain the desired cleavage.
Padded underwear has changed in recent decades to meet a variety of demands and tastes. The emphasis has changed away from excessive shapes and toward more natural-looking upgrades and comfort. Padded underwear is currently developed to provide modest shape, lift, and support while responding to particular body types and preferences.
Padded underwear is no longer limited to women's fashion. Men's padded underwear has also grown in popularity, with modest improvements and shaping options available. Padded underwear for men and women is available in a range of styles, including padded briefs, boxers, and shorts, giving consumers alternatives for improving their physique, boosting confidence, or addressing specific body image concerns.
Padded underwear remains a versatile and affordable alternative for people looking to augment their curves, create a specific silhouette, or simply embrace their confidence and feel their best in any outfit.
PaddedUndies.com Can Help You Find Your Perfect Silhouette
PaddedUndies.com believes that everyone has the right to feel confident and empowered. Our padded underwear line includes a number of alternatives to help you enhance your curves, embrace your chosen silhouette, and look and feel your best in any outfit. Butt pads, girdles, hip pads, lace-padded panties, men's padded underwear, padded bodysuits, padded lingerie, push-up bras, and thigh slimmers are all available. Embrace the transformative power of PaddedUndies.com and unleash your confidence.