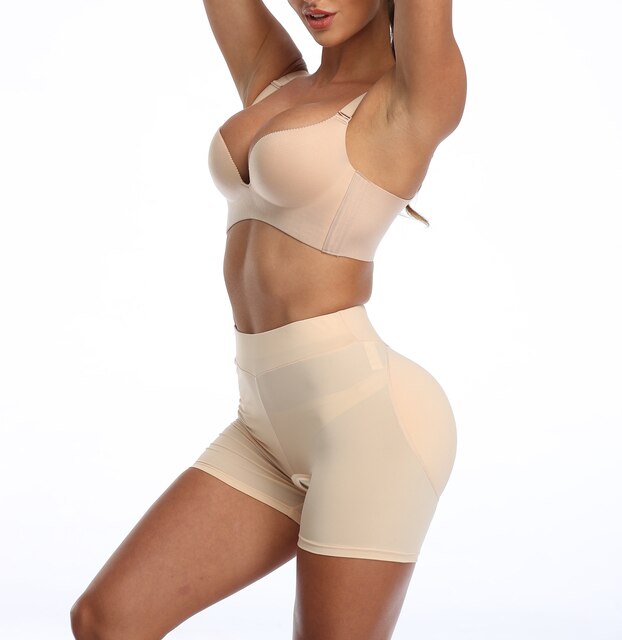 Padded underwear is a game-changer when it comes to enhancing your curves and boosting your confidence. Whether you're looking to accentuate your booty, create an hourglass figure, or add a little extra oomph to your curves, padded underwear offers a variety of styles and options to help you achieve your desired look. In this blog post, we will delve into the world of padded underwear and explore popular styles such as butt pads, hip pads, girdles, push-up bras, and more, allowing you to embrace your natural beauty and enhance your silhouette.
Butt Pads: Butt pads are designed to give your derriere a lift and a fuller appearance. These pads are typically made of soft foam or silicone and are strategically placed within the underwear to create a rounded and shapely behind. Butt pads come in various sizes and thicknesses, allowing you to customize the level of enhancement you desire. Whether you want a subtle boost or a more dramatic effect, butt pads can help you achieve the curves you desire.
Hip Pads: Hip pads are perfect for creating an hourglass figure by adding volume and curves to your hips. These pads are placed on the sides of your hips to enhance your natural curves and create a more pronounced silhouette. Hip pads are available in different sizes and materials, such as foam or silicone, and can be worn with various types of underwear or shapewear. They provide a seamless and natural-looking enhancement that helps you achieve an enviable hourglass shape.
Girdles: Girdles are a classic choice for achieving a smooth and streamlined look. These compression garments are designed to shape and contour your waist, hips, and tummy, providing support and creating a slimmer silhouette. Girdles often incorporate padding or panels in the buttock area to enhance and lift the rear. They come in a range of styles, from high-waisted briefs to full-body shapers, allowing you to target specific areas and achieve the desired level of shaping and smoothing.
Push-Up Bras: While not technically padded underwear, push-up bras are a fantastic addition to enhance your curves. These bras are designed with padding or underwire to lift and enhance your bust, creating cleavage and a more voluptuous look. Push-up bras come in various styles, from demi-cups to plunge bras, and offer different levels of push-up effect. They can instantly transform your silhouette, adding curves and boosting your confidence.
Thigh Slimmer: Thigh slimmers are a popular choice for those seeking to shape and slim their thighs while enjoying a seamless and comfortable fit. These undergarments are designed to target the thigh area, providing compression and support to help smooth out any bulges or unwanted lines. Thigh slimmers often feature a high-waisted design, extending from the waist down to the mid-thigh or just above the knee, depending on the desired coverage. They are typically made from stretchy and breathable materials that offer a snug fit without sacrificing comfort. Thigh slimmers can be worn under dresses, skirts, or pants, allowing you to achieve a more streamlined and toned appearance in your lower body.
Padded Bodysuits: Padded bodysuits are a fantastic option for those looking to enhance their curves in a full-body garment. These bodysuits are designed with strategically placed padding in areas such as the bust, hips, and buttocks to add volume and create a more shapely figure. Padded bodysuits come in a variety of styles, from full-body shapers to bodysuits that focus specifically on enhancing the curves of certain areas. They are often made from stretchy and smoothing fabrics that provide a seamless and comfortable fit. Padded bodysuits can be worn as standalone pieces or as a base layer under various outfits, giving you the confidence to show off your curves and feel fabulous.
Whether you're looking to slim and shape your thighs or enhance your curves with a padded bodysuit, these undergarments offer versatile solutions to help you achieve your desired look. Thigh slimmers provide targeted compression and smoothing to create a sleeker appearance in the thigh area, while padded bodysuits offer a full-body enhancement by adding volume and curves where desired. Both options are designed with your comfort in mind, using stretchy and breathable materials that allow for all-day wear. Embrace the power of these undergarments and confidently showcase your figure in any outfit or occasion.
Padded underwear offers a range of styles and options to enhance your curves and embrace your natural beauty. Whether you're looking to enhance your buttocks with butt pads, create an hourglass shape with hip pads, streamline your figure with girdles, or accentuate your bust with push-up bras, there's a padded underwear style for every desire. These undergarments provide a discreet and versatile solution for enhancing your silhouette, allowing you to feel confident, sexy, and empowered. Embrace the variety of padded underwear styles available and choose the ones that help you enhance your curves and embrace your unique beauty.